Find out about travel time, stopovers, average prices and how to save money on flights. 
Currently there are no direct flights to Bali from the UK, so you'll have to make at least one stopover. Flights from London include one stop, whereas flights from airports in the north as well as Scotland and Northern Ireland include two stops. Depending on stopovers and the airport you depart from, travel time from the UK is usually between 18 and 24 hours.
We recommend staying the night in your stopover city. This way you can make the most of visiting a new place and avoid trouble with flight delays, as most airlines won't cover the cost of missing a connection with a different airline. 
Expect to pay between € 500 (US$ 528) and € 1,000 (US$ 1,056) for flights, depending on the time of year. Fly out of high season for cheaper flights. Booking in advance also helps to bring the cost down. To find the best deals, you can check our cheap flight search engine.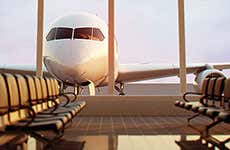 Find out about how to get to and from Ngurah Rai International Airport, taxi fares, visas and departure tax.