The Tanah Lot Temple, located on a large rock in the middle of the sea, is one of the most photographed and emblematic temples in Bali.
Tanah Lot Temple is built on a rock about 300 metres from the coast, and is one of Bali's pura segara seven sea temples, each of which is said to be visible from the next, forming a protective spiritual chain around the island. The silhouette of the Tanah Lot Temple at sunset is an emblem of Bali, so it is not to be missed!
The 16th-century temple is dedicated to the guardian spirits of the sea and is believed to be guarded by the dangerous sea serpents that live beneath the surface. When the tide is high, the rock on which the Tanah Lot Temple is located becomes almost completely covered, although, for a few hours a day it is possible to walk to the temple without getting wet. The interior of the temple, which is accessed through a staircase carved into the rock, can not be visited however, but at sunset it is possible to approach the sanctuary to receive a blessing given by the priests.
Make the most of your visit by heading to the waterfall on the beach as well as the holy water cave below the temple! You can also visit other temples such as Pura Batu Bolong, located on a rock in the sea that is connected to the shore by means of a natural bridge. At 7 pm, the fire dance show, known as kecak, also begins closeby.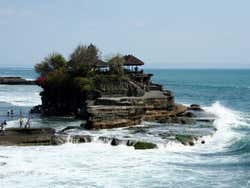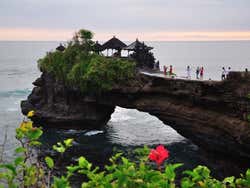 Schedule
Every day: 7 am - 7 pm
Transport
Taxi or hire car