Meet Bali's long-tailed Macaques in their natural habitat at the Jalan Monkey Forest. Here's everything you need to know before you go!
Bali's Monkey Forest is a sanctuary for around 700 Balinese long-tailed Macaques. It is also an important spiritual, economic, educational, and conservation centre for the village of Padangtegal where it is located as well as an extremely popular tourist attraction.
The Monkey Forest is a unique wildlife reserve where you can watch the monkeys in their natural habitat as they swing through the trees, climb, clean each other, eat and get up to lots more cheeky and entertaining antics.
Visitors can buy bananas to feed the monkeys, although be prepared as this can cause them to swarm around you. Sharp movements and eye contact can also make the monkeys aggressive. It's a good idea not to wear anything loose that could easily be snatched off you and to keep small or valuable belongings in a closed bag, as they have been known to steal! On the other hand, you should also dress respectfully as it's a sacred forest.
What's more, the Monkey Forest isn't just somewhere you can enjoy wildlife but it also houses three 14th-century Hindu temples; Prajapati Temple, Dalem Agung Padangtegal Temple, and Holy Spring Temple.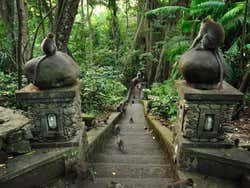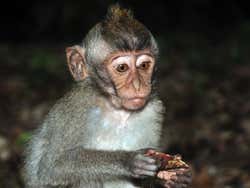 Schedule
Every day: 8:30 am - 6 pm
Price
Adults: 80,000 IDR (US$ 5.30)
Children: 60,000 IDR (US$ 4)
Transport
Walk from Ubud. 
Taxi or hire car.